Jazz etc...
VICKY AND THE ABSOLUTE JAZZ GROUP
Popular choice with corporate, private parties, intimate weddings: cocktail and dinner jazz from the Absolute Jazz Group featuring rich vocals from Vicky. Performing a mix of jazz standards, selected pop standards and amazing instrumentals from some of the finest players.

Vicky and the Absolute Jazz group add their magic to your event.
VICKY AND THE ABSOLUTE JAZZ GROUP
Voted Best Local Band for weddings and events.
"Thank you and your great tunes for making it special. Everyone had good things to say about the music."--Jed

"Everyone loved the music – I heard nothing but good things."
Bert's Jazz Trio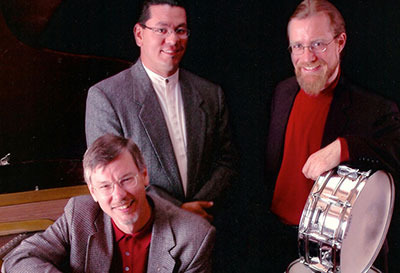 Bert's jazz piano complemented by double bass and drums bring accomplished precision, excitement and imaginative taste to jazz gems such as the examples featured here, and also brings his own interpretation to Latin material. In his thirty years as a renowned jazz pianist, Bert has performed with the best and toured extensively - let him bring excitement to your event.