The Absolute Entertainment Story...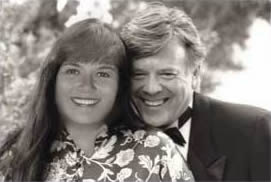 Vicky and Chris Speer started their very successful band Soulstice and Absolute DJ Service over ten years ago after they left their respective fashion and graphics businesses in LA in search of a complete change of scene. They fell in love with Santa Fe and felt a desire to return to music. They created Absolute Entertainment to promote their musical ventures and soon their musician friends began asking them to book them too. Absolute Entertainment quickly developed into Santa Fe's leading music source with access to the finest musicians in New Mexico. Chris and Vicky are involved with music because they love it. They were both in bands from an early age- Chris in London and Vicky in LA clubs on the Sunset Strip like the Whiskey. They also bring to the table an extensive background in design, business, theater arts - and the experience of thousands of successful events. Let them help you realize what you envision.
Vicky's early background is in music and theater arts as a teen in California. This was followed by a career in book publishing where her many-faceted abilities as an entrepreneur blossomed. A longtime friend and fellow musician invited her to help him with a newly formed clothing company, EZ Sportswear. She and her partners realized success with their Melrose & private labels and after several years they sold the business to a Fortune 500 company.
Vicky and Chris decided they wanted to relocate to a more peaceful life and made their home in Santa Fe in 1993. This led to a renewal of their mutual passion for music...
The son of an English jazz pianist, Chris played his first paying gig as a drummer at thirteen. He played in jazz, rock and soul bands in London from then on and formed and booked his first band at fifteen. He studied fine art in London and traveled all over Europe furthering his education. Eventually settling in LA, he started a graphics company. Included among his clients were major film studios and advertising agencies. His work has appeared in print, movie advertising and film and TV special effects. Chris also paints, and his work has been acquired by private collectors and companies. He has exhibited in several galleries. Chris enjoys helping to create exciting musical events for groups of people.
Chris has also published a book: The Grand Illusion and 20 Habits of Spiritual Transformation. See website here.
THE FOUR AGREEMENTS - a wonderful book by author Don Miguel Ruiz - describes principles to operate by that we have adopted at Absolute Entertainment. The principles are:
BE IMPECCABLE WITH YOUR WORD - Speak with integrity. Say only what you mean. Use the power of your word in the direction of truth and love.
DON'T MAKE ASSUMPTIONS - Communicate with others as clearly as you can to avoid misunderstandings, sadness and drama... ask questions and express what you really want.
ALWAYS DO YOUR BEST - Under any circumstances simply do your best and you will avoid self judgment, self abuse and regret.
DON'T TAKE ANYTHING PERSONALLY - what others do and say is a projection of their own reality.