Corporate events in Santa Fe and surrounding areas inspire innovation, clear-thinking, and new beginnings. The majesty of the Sangre de Cristo mountains, the historic town at the end of the Old Santa Fe Trail, the diverse cultural history, world-class cuisine, an artist colony, and exceptional entertainment are all found here in Santa Fe. Absolute Entertainment has provided wonderful musical entertainment for many prominent organizations. Here are some of them – we'd like to provide an outstanding musical experience for you too…
Microsoft - Merrill Lynch - Agri-King - Pfizer - CRG Events
American Cancer Society - LANL Foundation - Prudential Real Estate
Lufthansa Airlines - Smith Barney - Toyota - Sears
Santa Fe Institute - Allstate Insurance - Merrill Lynch - Quaker Oats
First National Bank - Fielding Institute - Century Bank - Premier Planning
Bayer Corporation - Southwest Airlines - Envision Software
New American Alliance - American Bar Association - State Farm
Janus Capitol Management Group - Pinnacle Society - Bishops Lodge
Millennium Pharmaceutical - Mathematical & Theoretical Biology Institute
Georgetown University - West Point Reunion - Keystone Symposium
Leukemia Lymphoma Society - Accenture - St. Johns College
The Plaza Group - Natural Tobacco Co - Sentinal Real Estate
The New Mexican - The Plaza Group - New Mexico Bar Association
Presbyterian Medical - State Employees Credit Union - CATO
St. Vincents Hospital - Rock Resorts - Hilton Hotel - La Fonda Hotel
Nuclear Energy Institute - C & A Insurance - Water Education
National Advocate Society - Los Alamos Medical - St John Knits
Nesbitt Burns/Bank of Montreal - Premier Events - Union Pacific
OSRAM - Realtors Association of Santa Fe - Washington Mutual
CCCIS - Santa Fe Chamber Music Festival - Noble House Hotels
Los Alamos National Laboratories - Thornburg Investment Management
American Holistic Medical Association - Eldorado Hotel - NFRC
College of Santa Fe - El Monte Sagrado Resort - Inn & Spa at Loretto
SWoda - Eli Lily - Inn of the Anasazi - Kentucky Indiana Lumber
Avery Hess Realty - Quail Run - Las Campanas
American Republic Insurance - American Institute Of Lumber Construction
Baylor College of Medicine - University of Medicine & Dentistry of New Jersey
Dentsply - PESA - American Assoc. of Pediatrics - AASHTO
PKF North American Network - Santa Fe aspen Ballet - UNM Alumni
Loretto Chapel - Keystone Symposium - Black Mountain Motorcycle Club
IAIA - Santa Fe Chamber of Commerce - Santa Fe Restaurant Association - ICOMAT
Envision Utility Software - NM Children's Foundation
Is your company planning an upcoming event in New Mexico?
Music can make or break a social event - Allow the expertise and professionalism of Absolute Entertainment to provide the perfect music - Here is an introduction to some very popular
musical solutions that will bring the flavors and cultural
richness of the South West to your group -
Event: Welcoming Receptions
Solutions:
Mariachi Groups, Flamenco Guitarist/vocalist, Flamenco Guitarist, Classical/Brazilian Guitarist, Latin Guitar and Vocal Group, Country Guitar Duo, Contemporary Guitar/Vocalist, Jazz Groups, Native American Flutist, Bagpiper
click LIVE MUSIC for more information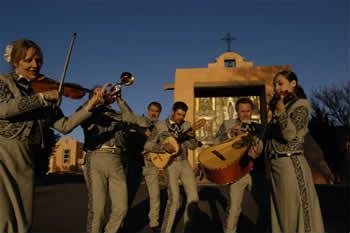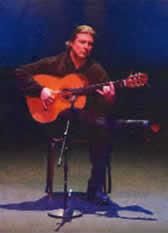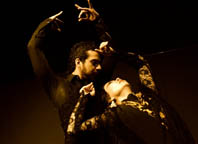 Event: Dinner Dance and After Parties
Solutions:
For music that will provide lush background for dinner and cocktails, then move into dance music that will keep your guests on the dance floor, having the time of their life all night - the very popular live party band SOULSTICE has been wowing corporate clients for years. Click to visit their website. Alternatively, our Absolute DJs will play some tasty cocktail/dinner music, then create a great party or after-party. Click to visit DJ page

Event: Dinner Shows and Themes
Solutions:
1. Spanish Flamenco guitarist plays background music during dinner, then as your group is served desert a Spanish Flamenco show performs, featuring dynamic musicians and dancers that will thrill and entertain your guests.
2. Native American show of authentic dancers, drummers and storyteller.
3. If you fancy a Southwest style hoedown, put on your western duds as we have country bands, vintage western bands, a cowboy singer/guitarist/poet and a country dance instructor to set the mood.
For information on all three click LIVE MUSIC
CD Gifts for Attendees
We can facilitate a CD of the music they have just heard for each member of the audience to take home with them, a treasured keepsake of a special and unique experience.