News
8-11-2018 - Soulstice played a wonderful wedding for Allyson Taylor and Jake Matthews in the La Posada Santa Fe ballroom last Saturday.
"Hi Vicky,
Just wanted to send you a quick note to say thank you for an amazing event on Saturday. The band was fantastic and we cannot thank you enough for your flawless MC skills and helping the event run smoothly. The special dances were all great, as well! Thank you for all of the time and energy you put into making sure it was a fun event!
Thank you!
Allyson and Jake."
Starting with dinner music, first dance, parent dances, and a night of open dancing for the wedding party and their guests - the dance floor stayed packed all night - a very appreciative crowd with compliments, applause and voting with their feet and enthusiastic dancing. When the band finished their 4 hours of music we switched to a custom mix of recorded DJ music - and the party continued until midnight.
We wish Allyson and Jake the very best in their life together.
Another fabulous weekend for Soulstice:
4/21/2018 at Hotel Santa Fe a lovely birthday party for Joe Schepps - much appreciation, enjoyment, dancing and compliments for the band from the guests "That was fantastic!" - Happy Birthday Joe!

4/22/2018 at Hotel Tamaya - a corporate dinner/ dance for the National Terrazzo & Mosaic Association - they loved it and did a lot of dancing, singing and applauding.
So grateful to have this fabulous band!
Thanks to everyone who made it possible.
4/14/18 A fabulous Soulstice gig at La Posada for the wedding of Kelsy and Mason Abshire! The dance floor stayed packed all night from the first song to the last, the audience singing along with songs and applause - with 2 encores - the crowd shouting "One more song!" at the end. Doesn't get any better than that- our best wishes to the bride and groom.
Absolute Entertainment also booked Cielo Strings and provided sound for the Ceremony, a Bagpiper, 2 more set ups for music and mic in the tent, and music for Cocktails.
Summer 2018 Soulstice has been playing a number of corporate gigs recently - Buffalo Thunder, Hyatt Tamaya, Casa de Vidrio. We get to play a wide range of music from jazz to funk, current, country, rock & R & B. Ed Sheehan, Chain Smokers, Chris Stapleton, Camila Cabello, Al Jarreau, Earth Wind and Fire, Thelonious Monk etc. etc. Each one has been very well received, with a lot of compliments - and a lot of fun! Thanks to our very talented musicians and singers.
Congratulations to Naomi and Paul who just had their 12th wedding anniversary, they have a beautiful son - a lovely family. Soulstice played for their wedding reception: "Thank you for bringing your music and joy to our wedding" Naomi. "Best wedding band ever!!!" Paul. Our best wishes to you all, our band Soulstice takes full responsibility for the success of your marriage (if it had failed it would have been the fault of Catering)
Soulstice Santa Fe had some excellent changes in our line up in 2017
Originally from New York, brilliant and versatile Keyboardist Jim Ahrend has joined Soulstice. Equally at home playing pop, jazz, funk, Classical or the Great American Songbook, Jim has brought his tremendous musicality to the band. He's also a great guy.
In musician circles, a great player of exceptional technique and talent who commands respect among other players is referred to as a "monster" - Jim is a monster!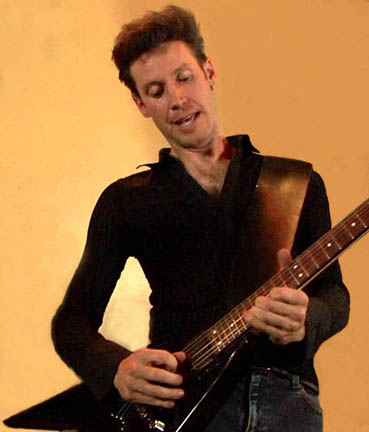 Another great musician who has joined us is Andy Primm. A graduate of Santa Fe University music program, Andy has been gigging and touring non-stop ever since. Andy is a lead and harmony singer, guitarist, and drummer/ percussionist. And also a great guy. He adds new dimensions to the band.
We are very happy to have them both as part of Soulstice, and audiences have been loving them.