Absolute Entertainment has been in business since 1996 and has earned a stellar reputation among event and wedding professionals as well as clients for providing outstanding service and exceptional music from some of the best talent the Southwest has to offer. Highest rating by the BBB and Members of the Chamber of Commerce.
We suggest you ask the wedding and event professionals you encounter in Santa Fe who they recommend to provide music for your event. You will repeatedly hear the name Absolute Entertainment, their band Soulstice, and other talent they represent. It pays to ask others who have personal experience - whether former brides and grooms or vendors or hotels who have worked with us and have no vested interest other than their wish for your satisfaction.
Recommended by many fabulous venues:
La Fonda Hotel, La Posada de Santa Fe, Inn & Spa at Loretto, Bishops Lodge Ranch, Eldorado Hotel, Inn of the Anasazi, Four Seasons Rancho Encantado Resort, Hotel Santa Fe, Hilton de Santa Fe, Hotel St. Francis, The Lodge de Santa Fe, Rio Chama, Hacienda Dona Andrea, El Monte Sagrado in Taos, Los Poblanos Historic Inn, Hotel Albuquerque and other venues. Event Planners Jessie Baca of Weddings & Events, Plum Studios Santa Fe, Heidi Mitchell, Art of Celebration Felicia Ponca, and DMC's Destination Southwest, Passport New Mexico, Destination Services of Santa Fe and others.
We'd love to provide a wonderful musical experience for your event too!
Here are just a few of the many thank you letters we have received from grateful clients:
WEDDING - We provided classical music for the wedding ceremony, Spanish guitar and vocals for cocktails, and SOULSTICE for the reception dinner and dancing
"Dear Vicky and Chris and the rest of your fabulous musicians!
Thank you so incredibly much for making our wedding a smashing success. From beginning to end, SOULSTICE (and especially Vicky!) made our wedding day flow perfectly, logically and enthusiastically. Even before the wedding day, when we had our planning meetings, we felt completely at ease that all things musical would go off without a hitch. It only got better from there. Thc musicians for the ceremony and cocktails were talented, involved and professional - and SOULSTICE!...I don't even know where to begin!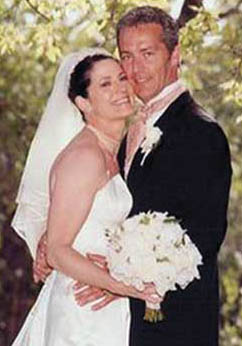 You were fantastic! You got everybody dancing - and I mean everybody - and kept them there all night. Even my husband's grandmother was on the floor! Everyone from 7 to 77 got out there. On top of the fabulous music, Vicky's emceeing talents truly put everyone at ease, helped the guests to participate in the festivities and generally kept the good mood going all night.Thank you, thank you, thank you. - a million times thank you. Our wedding simply would not have been the
same without you.
Yours affectionately,
Lisa and Andy S.
London, England."
WEDDING – we provided planning & coordination for an elaborate outdoor Winter Wedding ceremony in which the groom arrived on horseback. We designed music for the outdoor Ceremony to include sound system & tech, provided a Mariachi band for a cocktail period, and then SOULSTICE played for their great reception party. Here's the feedback:
"Hi Vicky,
This is Pam calling. I definitely wanted to get ahold of you and wish you all sorts of good things before I head off on my honeymoon with Brian.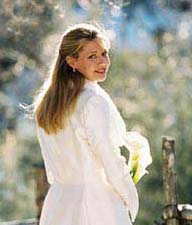 You did an absolutely marvelous job and I thank you from the bottom of my heart for pulling together all that you did. Your talent and leadership qualities really were a strong part of why everything was so successful. Anyway, my love to you and thank you so much --
Big, big hugs to you and your husband and your entire band Soulstice."
WEDDING - We provided a Native American flutist for the ceremony and a Mariachi band for cocktails. SOULSTICE played the dinner and dance reception.
"Dear Vicky and Chris,
We would like you to know how wonderful you and your band Soulstice were for our wedding. You contributed so much to making it a special, memorable event. What really stands out for us was your extensive experience specifically with weddings. Because of your experience, you knew how to plan and implement a great program for the evening. You knew just the components that would make the evening go smoothly and allow everyone to have a great time, from the way that you announced the introduction and first dance to the way that you coordinated the toasts. You personally have great style and composure and related very well to the group. One of our favorite parts was the "love songs". You did a great job involving everyone and every table enjoyed doing a song."
"The other exceptional aspect of the evening was how people of all ages got on the dance floor and really enjoyed themselves. Your music selection and wonderfully talented band inspired all of the guests to get up and have a great time dancing. We received many compliments of "great band" or "one of the best wedding bands ever". Your selection of songs was appropriate, fun, and great for all generations. We appreciated your flexibility adding our friend Ben's song to the lineup during the reception. It also meant so much to us that you learned our first dance song. It sounded beautiful and the timing was right on with our dance.
Thank you very much.
Christina and Hans-Peter"
CORPORATE PARTY - played by SOULSTICE for 500 very enthusiastic staff members - the CEO and Controller sat in with the band.
"We do these events regularly at different locations each time. We had more fun with your band than any band we've ever had. Soulstice was wonderful, thank you!
Christine W."
BMO Nesbitt Burns Canada
CORPORATE PARTY (Intertech Publishing annual party) - played by SOULSTICE
"Thank you! Your band Soulstice was awesome! Our best party ever."
Debby
WEDDING RECEPTION- played by SOULSTICE. Lol Cream of the 80's band 1Occ attended the wedding and was very complimentary of Soulstice's rendition of his hit song. "I'm Not in Love"
"Dear Vicky and Chris:
Greetings! I just wanted to write to let you both know how much David and I (and our families) loved your music at my June 2 wedding reception. You all really went above and beyond the call of duty. I was both touched and impressed that you went to the trouble of learning the song "I'm Not in Love." That moment is one that I will no doubt remember for the rest of my life! (My sister and brother-in-law are still talking about how great it sounded). In fact, of all the compliments that I have gotten about my wedding and reception about half are related to Soulstice's performance. The rest of the evening was equally well thought out and professionally executed. You also magically seemed to make both my mother and me happy at the same time - even though we wanted two totally different things - that was some trick!
In short, I could not have been happier with everything.
I will recommend you with pleasure to anyone who asks me about you and all your services.
Sincerely.
Carlotta Ramirez M."
WEDDING RECEPTION - played by SOULSTICE
"Vicky and Chris,
Thank you so much for the music! We are still getting phone calls from our friends telling us how much fun they had and how much they loved your band Soulstice ... as we all suspected its all about the music...
I don't know if they noticed anything else.
Some people thought we must have hired a band from New York and that it couldn't be a local Santa Fe band, others thought it must have been two bands as the cocktail/dinner Jazz & Swing and then the R & B, Funk, Disco and Rock Dance music later on were both so good.
Thanks again for agreeing to play the extra 1/2 hour. No one wanted to go home!
Melissa and Paul L. "
REUNION DINNER/DANCE - played by SOULSTICE
"Dear Chris and Vicky,
You and your band were absolutely wonderful Saturday night! The 293 attendees at the West Point Class Reunion will be talking about Saturday night's party for all of the years to come.
Vicky, you definitely had the pulse of your audience. People were on the dance floor with your first number and it was filled until your last.
There were smiles and laughter throughout the night—and I saw tears during your
closing number of "Army Blue".
My sincere thanks to both of you - and to the members of your group— for a very. very
memorable evening.
Sincerely yours, Thomas H C."
WEDDING RECEPTION / WEDDING - Mariachis / Absolute DJ Service
"Dear Absolute Entertainment,
Thank you for making our destination wedding in Santa Fe such a success. The Loretto Chapel is beautiful and the String Quartet was wonderful. It was a fairy tale wedding. The music was amazing--the string quartet, the mariachi band, and especially the DJ. You guys made the whole evening flow smoothly.The music selection at the dance was a great mix for all of our guests, and we really enjoyed watching everyone have such a great time. Everybody left saying it was the best wedding party they had ever attended. When the DJ announced the sparkler send off for Alison and Adam, I had guests saying, "Oh, I wish it wasn't over yet!" That is a great wedding when the guests are having so much fun that they don't want to leave. Thank you Absolute Entertainment!"
Jim and Linda Risley (parents of the bride)
Alison and Adam Cunyus (bride and groom)
CEREMONY MUSIC - Classical and Mariachi groups
"Dear Vicky,
I want to thank you so very much for making our wedding so very special.
The music was so beautiful —you worked so very hard on everything and l really appreciate it. If you need a referral—please have them contact me!
You are the greatest!
Sincerely,
Mary C."
CEREMONY MUSIC - Classical group
"Vicky,
Thank you so much for coordinating the music for our wedding. Jared and I really appreciated your professionalism and responsiveness. The music was absolutely beautiful. We'll be sure to recommend you to anyone we know who is getting married in Santa Fe,
Thank you again for making our wedding day so special.
With kind regards,
Julie H."
WEDDING RECEPTION - Absolute DJ Service
"Vicky and Chris!
Well it's been a little over 2 weeks and our guests can't stop talking about our wedding! We can't thank you enough, Absolute Entertainment, for putting on such an awesome show! Leigh Ann & I talk about how wonderful everything and everybody was throughout the weekend. To be topped off by such great entertainers! Unbelievable!! Most of our friends and family are used to "one dimensional" entertainers for the most part. Absolute Entertainment went above and beyond, you have imprinted yourself in our memories, as well as the memories of our guests! Leigh Ann and I can't wait to see the video. Morgan said they couldn't stop laughing while they were editing it .....I'll let you know how it comes out.
Thanks for being wonderful!!!
Love,
Brian and Leigh Ann M."
WEDDING RECEPTION - Absolute DJ Service and Mariachi Band
"A quick note to anyone considering hiring Absolute Entertainment (Chris & Vicky Speer) - do it!
We hired Chris and Vicky to dj our wedding reception and it is a real pleasure to recommend them.
We and our guests had a fantastic time at the reception party, due in no small part to the professional efforts of Vicky & Chris. They met with us weeks before the wedding to go over every detail of the music and coordinated with the hotel to ensure everything went smoothly. They have numerous contacts with local musicians (in addition to having their own band) and were able to supply an excellent Mariachi group, which played before dinner. During dinner and afterwards they were professional, unobtrusive and highly experienced - Chris' exhaustive knowledge of music accommodated all tastes and kept the party going, and Vicky worked extremely well with the crowd - taking requests, MCing when necessary (e.g. announcing toasts, dances etc.) and even serving as an impromptu wedding coordinator to handle those inevitable last minute surprises which popped up. They clearly enjoy their work, and it shows. In short Chris and Vicky Speer are a class act and a lot of fun. We thoroughly enjoyed working with them.
Scott C. and Molly V."
WEDDING RECEPTION - Absolute DJ Service
"Dear Chris and Vicky, David and I wanted to thank you for all that you did to make our wedding truly the most amazing day of our lives. Your presence there made it much more special, as we felt by that time that we knew you personally, that you were friends who had our best interest at heart. Your professionalism, humor, and warmth put us at ease on a night when we both were struggling to keep ourselves together! Thank you for your terrific suggestions, and for keeping with the feel that we wanted for our party. The "love songs" were one of the highlights of the party and the video of the reception! Thank you for also working so well with our guests, and for keeping things upbeat and fun--you in fact gave us a party, not just the music that goes along with a party. Please keep in touch.
Love,
Rhoya and David"

More WEDDING RECEPTIONS - played by SOULSTICE
"Vicky and Chris,
Wow! What a party. You guys were so great. People loved you. Thank you for making our reception a true celebration. You did a wonderful job keeping things going smoothly. We appreciate you allowing us to add our special songs, people said it was so intimate. Vicky, your voice filled my heart when you sang for my father and me. It was almost too much to behold. Please let us know if you need any letters for references. We will sing your praises!
Love,
Cassi and Pete"
"Dear Vicky and Chris,
We absolutely loved your music at our wedding—as did all of our guests! THANK YOU for your excellent performance! We would certainly be happy to give you an excellent reference any time in the future!
All the best and thanks, many, many thanks again!
Sincerely.
Nate & Melissa"
"Dear Vicky,
We all loved the music and the way you kept everyone involved. I think it went well and so did every one of the guests. Soulstice played the first dance "Taking You Home" beautifully. You made it so memorable for us and we sincerely thank you and your band. For all you did to help us pull off an incredibly emotional day we all thank you.
Sincerely,
Jacque and Jennifer G. "
WEDDING ANNIVERSARY - played by SOULSTICE
"I cannot tell you how much we appreciated and enjoyed your band at my parent's wedding anniversary. There is not one thing I can think of that could have made it better. I loved the interaction with the guests. Thank you so much. Soulstice truly is the best band in Santa Fe.
Barbara R."